The Senior Leadership Team brings to our children and our mission a cumulative 68 years of clinical practice, 49 years of non-profit management, 51 years of financial and human resources management, and an insatiable passion to help each child fulfill his or her promise.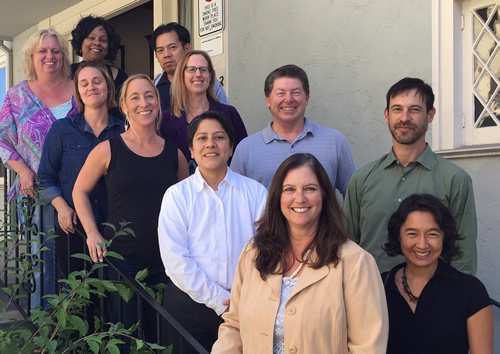 Financials
East Bay Agency for Children's EIN is 94-1358309
View East Bay Agency for Children's FY 2017 - 2018 Annual report (pdf)

Chief Executive Officer Josh Leonard
510-268-3770 x1110
Josh.Leonard@ebac.org

Josh Leonard joined EBAC as Executive Director in 2013. Josh has more than 20 years of experience working at non-profit organizations providing child welfare and mental health services to vulnerable children, youth and families. He has previously worked as the Chief Program Officer at Sunny Hills Services and as Executive Director at Bay Area Youth Centers. Josh is widely recognized as a leader in developing an array of services available to youth transitioning out of foster care in Alameda County. He has a long history of advocacy including serving as the plaintiff in "Leonard v. Wagner" in which the San Francisco Superior Court held that the State of California was illegally discriminating against foster youth with disabilities.

Chief Operating Officer Tammy Jones
510-268-3770 x1109
tammy@ebac.org

Tammy joined the Human Resources team at EBAC in 2010, bringing with her a wealth of knowledge from both the public and private sectors. She was promoted to Chief Operating Officer in July 2014. Committed to EBAC's mission and vision, Tammy joins the senior team and looks forward to assisting the agency in reaching its goals. A self-described "people person", she finds the work of human resources rewarding and challenging. A resident of the Bay Area, Tammy is committed to Building Brighter Futures and Stronger Communities in the community in which she lives and works.

Chief Financial Officer Roger A. Ailshie
(510)268-3770 x 1103
roger.ailshie@ebac.org

Roger A. Ailshie is a Certified Public Accountant who joined EBAC as CFO in 2016. Roger has over twenty-five years of total experience which started at a Regional CPA firm. From there, he worked as an Auditor for the Federal Government's Defense Contract Audit Agency. Roger then moved to a large non-profit corporation for 15 years holding numerous different positions until finally becoming the Corporate Controller. Roger than provided CFO/Controller services to Native American Organizations before spending the last several years in a similar non-profit to EBAC during which the organization more than doubled in size. Roger graduated cum laude with a Bachelor of Science in Accounting from Baker University.


Chief Program Officer Sandra Portasio
sandra.portasio@ebac.org

Sandra Portasio joined the EBAC team in October 2019 to serve as the Chief Program Officer. Throughout her career, she worked to address the impact of poverty, to foster equity and she contributed alongside others towards developing healthy communities. Sandra is trained in Pedagogy and holds a M.A. in Educational Leadership, and has served as teacher, school leader and pedagogical counselor. Sandra also has extensive experience working in the public and non-profit sector leading multi-agencies collaboratives under the umbrella of the community school model. Sandra is an immigrant from Brazil, and she loves to travel around the world learning about other cultures.

Chief Development Officer Julie West
510-268-3770 x1108
jwest@ebac.org

Julie West joined EBAC as Development Director in October 2010. Previously, she worked for six years with the American Lung Association in California in regional and statewide development positions and ultimately as the Executive Director for the Greater Bay Area region. Julie brings to EBAC broad development experience and expertise including individual donor development, special event development and management, and corporate and foundation partnerships. Before her work with non-profits, she spent a decade in information systems sales and product marketing. She holds a bachelor's degree in economics from Stanford University.


Director of Impact and Evaluation Lisa Hilley
510-504-0115
lisa.hilley@ebac.org

Lisa Hilley is a licensed clinical psychologist and has over 15 years of experience working in Bay Area non-profit organizations dedicated to serving children, youth and families. She has designed and implemented clinical, quality management and compliance programs in a variety of community mental health settings in California. Lisa's interests include trauma-informed approaches in public systems and programs. In particular, Lisa has worked within Child Welfare and Behavioral Health systems to improve, serve, monitor and evaluate programs designed for children, youth and families. Her past leadership roles within non-profit agencies include Director of Mental Health, Director of Quality Management and Improvement. Lisa obtained her PhD in Clinical Psychology from the University of Maryland, Baltimore County and completed her post-doctoral fellowship at the University of California, San Francisco.

Director of Family and Community Wellness Kristin Wagner, LCSW
510-268-3770 x1107
kristin@ebac.org

Kristin Wagner joined EBAC as Program Director of Circle of Care/PALS in 2008 and became the Director of School and Community Services in 2011. Kristin's interest in social issues and social justice was nurtured at the College of William and Mary, where she received her BA in Sociology in 1990. Her social work career began in Chicago, where she earned her Master's Degree in Social Service Administration from the University of Chicago in 1992. She became a licensed clinical social worker in California in 2001. As a resident of the bay area since 1992 and a current resident of Oakland, Kristin has a strong desire to impact her community through high quality, family-oriented service provision. Prior to coming to EBAC, Kristin gained extensive experience working in community-based non-profits, first as a direct service provider and later developing and directing programs.

Director of Intensive Behavioral Health Shawana Booker, LCSW
510-504-0115
shawana@ebac.org

Shawana Booker, LCSW- specializes in providing evidenced based therapeutic interventions and parenting curriculum to marginalized urban community at-risk youth and their families. Her background experience includes providing program oversite, clinical supervision, individual and family therapy services with children who have been placed in out of home care due to abuse, in a variety of settings such as mental health clinics, community based, as well as in the Juvenile Justice Center's and also with San Francisco's Child Crisis Unit providing risk assessments and crisis therapy to youth displaying suicidal or homicidal behaviors

Senior Program Director, School Based Behavioral Health - North Region Melanie Wartenberg, MFT
510-531-7551 x3107
melanie@ebac.org

Melanie Wartenberg, MFT joined EBAC originally as the Clinical Coordinator for the Circle of Care/Prevention and Life Skills Programs (COC/PALS) in August 2009 and has held several different positions, advancing towards her current role as the Sr. Program Director of North Region School Based Behavioral Health Services Division. Melanie obtained her BA in Psychology from The University of Delaware and MA in Counseling Psychology from John F Kennedy University. She became a Licensed MFT in 2005. Melanie has worked for over 25 years in non-profit work with children and families impacted by trauma in many forms and settings including medical trauma in pediatric HIV/AIDS work; in residential and day treatment settings; with foster/adoptive children; and families traumatized by community violence and the negative impacts of oppression, poverty, racism and disenfranchisement. Melanie was the Founder and Director of Camp ALWAYS, a post adoptive family camp, receiving an Adoption Excellence Award from the US Department of Health and Human Services in 2003. She was also a Director for over 15 years of the Family Program of Grief and Growing, an annual bereavement retreat. Melanie is deeply connected to the complexity, beauty, and struggles of Bay Area communities and can't imagine living or working anywhere else.

Senior Program Director, School Based Behavioral Health - South Region Meg Mattar, LMFT
510.844.6780
meg.howard@ebac.org

Meg Mattar joined EBAC in 2014 as Senior Program Director for School-based Behavioral Health South Region. She oversees the clinical services delivered to students in 5 school districts in Alameda County. A License Marriage and Family Therapist, Meg has over 8 years of program management experience in the mental health field, informed by her 6 prior years of direct therapeutic service. Meg obtained her Bachelor of Arts from St. Lawrence University and her Masters in Counseling Psychology and Expressive Arts from California Institute of Integral Studies.

T2 Center Director Jen Leland, LMFT
510-268-3770 x1119
jen.leland@ebac.org

Jen Leland joined the EBAC team in April 2012. She is a licensed MFT with an extensive background in community mental health programs including working as a residential counselor, street outreach worker for sexually exploited minors, case manager, home-based family therapist, clinical supervisor as well as directing multiple programs for various non-profit and county public health agencies. Jen is connected to the vision and values at EBAC and loves her continued work in specialized milieu settings-focusing on the most vulnerable communities and providing the richest opportunities for transformation. In addition to overseeing the intensive school-based day treatment programs and counseling enriched classrooms, she is responsible for coordinating agency-wide and specialized clinical trainings for EBAC's dynamic staff.