Upcoming Events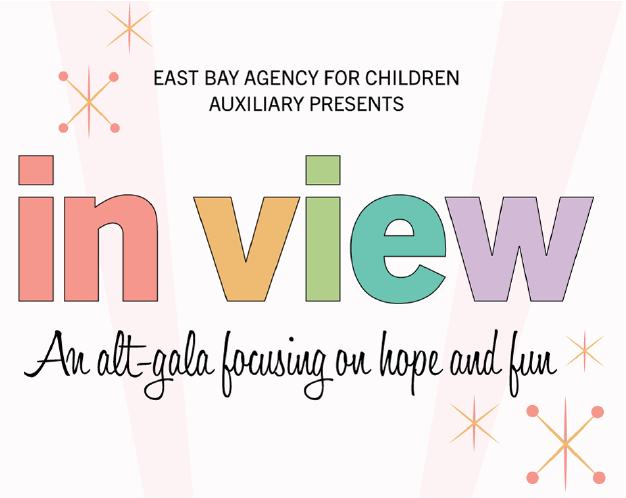 Join us for In View, an Alt-Gala on 10.10.2020.  Details at EBAC.org/Gala
It goes without saying that things are different this year. We've all felt it in countless personal ways. But imagine how it might be for children — especially those who have experienced trauma and adverse childhood experiences. These are dark days for us…can you picture what theirs may be like?

With that in mind, the EBAC Auxiliary has uniquely reimagined our signature Gala fundraiser in a way that not only supports the kids and families served by East Bay Agency for Children (EBAC), whose needs have never been greater, but also allows us to "come together" to celebrate these families and raise much-needed funds.

Join us on October 10, 2020 for EBAC's "In View" Alt-Gala, a unique fundraising experience culminating in an unforgettable evening focused on hope…and delivered in a fun alternative way to our annual gathering.

Our theme — In View — keeps these families…their needs…and 2021 firmly in our minds as we raise funds and celebrate.
Mark your calendars for these important dates:
August 1, 2020 – Sponsorships open. Sponsorships this year have been streamlined and are available with a number of unique benefits to accommodate the Alt-Gala format.
September 23, 2020 thru September 28, 2020 – Meal bidding available. This year, the gala is on the go. Bid on a delicious dinner prepared by restaurants such as Wood Tavern, Agave Uptown and more. A limited number of meals will be supplied by each participating restaurant. Your winning bid will result in a catered meal, delivered to your home the night of the Alt-Gala (10/10/2020) for you alone, your family, or you and your friends safely dining together…the choice is yours.

September 28 thru October 10, 2020 – Online auction available. Our auction will kick-off online, with many great items available. The auction will be open through the night of the Alt-Gala, culminating in a virtual, but live event for a select number of packages. We are currently accepting tax-deductible donations.

October 10, 2020 – In View Alt-Gala. The evening will feature three-course (mask-covered but hand-delivered) meals, fine wine and a brief yet enjoyable virtual program to connect you to EBAC and the other EBAC supporters participating in the Alt-Gala. Throughout the evening we will enjoy fun activities to share joy and hope and raise essential funds to sustain EBAC's work to support our community's children through this pandemic and economic crisis well into the future.
The Gala experience will be different, to be sure, but we have the ability to make a sustainable impact on our community and have some fun in the process…and we appreciate your support!

For questions about the event or sponsorship opportunities, visit EBAC.org/Gala or contact Sarah Miller Gala Chair.
Previous Events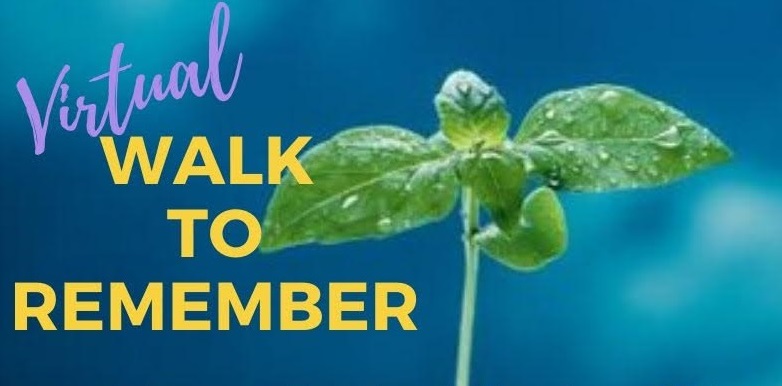 The Annual Walk to Remember was held on Saturday, June 27th as a Facebook Live event. You can experience the amazing Healing Circle from this year's Walk on East Bay Agency for Children's Facebook page and share in the Circle's comfort and centering from your own home.
It's not too late to make a contribution to support Circle of Care's services for grieving children and their families as they navigate their incredibly difficult bereavement.
Visit EBAC.org/CircleOfCare for information on grief support and education programs offered.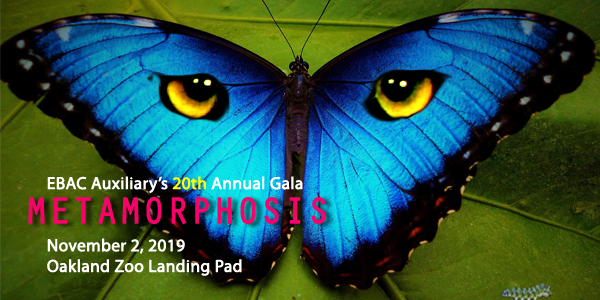 Metamorphosis

EBAC Auxiliary's 20th Annual Gala
Atop the Landing Pad at the Oakland Zoo
Saturday, November 2nd
Sponsorships, Tickets and Information at EBAC.org/Gala

The Walk to Remember a special day for the community to unite as we navigate our grief journeys together.

Each year in May families, friends, and colleagues unite to cherish the memories of our loved ones at this unique and moving ceremony of remembrance followed by a 3 mile walk around beautiful Lake Merritt in Oakland. The Walk to Remember is also a fundraiser for East Bay Agency for Children's Circle of Care grief and illness support services - ensuing no child has to walk his or her grief journey alone.

10th Annual Walk to Remember
Questions? Contact Julie West at Jwest@ebac.org or 510-844-6708
Learn more about Circle of Care at www.ebac.org/CircleofCare
19th Annual Gala

Tartans, Tuxes and Tiaras was a smashing success

Thank you to the wonderful EBAC Auxiliary for hosting such a fabulous fundraiser, and thank you to our 200 guests who together raised over $183,000 to reduce the impact of trauma on children and families.

Mark the date for this year's 20th Anniversary EBAC Auxiliary Gala - November 2nd, 2019. Location and theme to be announced.

Julie West, EBAC Chief Development Officer

510-844-6708
Go-Go Mod! A Groova-delic Gala 2017
Shake your groove thing at the hippest gala in town benefitting East Bay Agency for Children. Join the EBAC Auxiliary at the Oakland Museum of California for a Goova-delic evening you won't soon forget.

November 11, 2017
17th Annual EBAC Auxiliary Ball – La Belle Epoque, Un Soiree Parisienne
On Saturday November 12 th, 170 revelers and EBAC supporters gathered at the spectacular University Club atop the Cal Memorial Stadium for a most successful and enjoyable EBAC Auxiliary Ball!  Guests were treated to South African Gumboot drumming by children in one of EBAC's afterschool program (link tohttps://youtu.be/a3tNEDceMeE) and heard moving stories of EBAC's work.  The lively auction raised over $50,000, contributing to the $150,000 (net) raised to be invested in EBAC's mission to improve the well-being of children, youth and families by reducing the impact of trauma and social inequities.

Guests donned period costumes from the era with ladies competing to win the Chapeau Contest.   Enjoy the wonderful photos (link to https://flic.kr/s/aHskNTJvzn)

A huge thank you to everyone who supported this important and fun event, especially our sponsors:  Larry and Linda Anderson, Kaiser Permanente, Dr. Michael L. Henry, Highland Partners, Monica and John Marcone, PG&E, Ross Stores Foundation, Union Bank, Keenan Winery, Aloha Pediatric Dentistry, Berkeley-Orinda Orthodontics, Lin and Adam Cheyer, Claire and Vincent Faughnan, Joanne and Scott Karchmer, MB Jesse, Inc., Scott Matula-Beltch and Rob Beltch, Jamie Miller, McCutcheon Construction, Inc., Marilyn Sandifur, Kendra Scott, Nancy and Kevin Sidow, Katherine Welch and Verdant Project Management. 
2017 Annual Walk to Remember, benefiting Circle of Care
The 2017 Walk to Remember was a wonderful celebration of life for the 150 children and adults in attendance. Together we raised awareness about the impact of grief on children and families and raised funds for Circle of Care's grief services. It's not too late to donate to this walk which has already raised over $24,000!
Wood Tavern 10th Anniversary Benefit for EBAC
On Sunday, May 7th, 2017 Rockridge's popular Wood Tavern restaurant closed its door for a private benefit for East Bay Agency for Children. Guests enjoyed Executive Chef Yang Peng's creative and delicious culinary treats along with signature cocktails and a winning wine selection. Proprietor Rich Wood led a lively auction to raise money for children impacted by trauma who he called "the real heroes for showing up each day despite the challenges they face". EBAC is incredible grateful to the Wood Tavern staff and patrons for their continued support.