Think back to 1952 when there were very limited services for children with special needs. Parent's choices were limited, either put their emotionally challenged, developmentally disabled, or mentally ill children into residential care or keep them at home with little, if any, available services. When a group of families in the Alameda County decided they wanted to give their children "the same educational and recreational opportunities which contribute to the physical well-being and social growth of all children", they had to search for an alternative.

They identified a program model in use on the east coast, brought it to the east bay, and created the first "day treatment" program west of the Mississippi. Initially called the Berkeley Activities Center, then the East Bay Activities Center, this newly formed non-profit thrived for 30 years and eventually formed the basis for the Oakland Day Treatment program and what was to become East Bay Agency for Children.

The decade from the mid 1980's to the mid 1990's was a period of significant expansion for EBAC. Taking advantage of strong organizational leadership and vision of Executive Director David La Piana and synergies of collaboration, EBAC merged many non-profit service providers into our growing family of services and launched new programs.

We welcomed a new day treatment program in Fremont and the Prevention and Life Skills (PALS) program. We took over operation of the Therapeutic Nursery School from Children's Hospital Oakland and in Fremont opened the first of several EBAC run Healthy Start programs. We brought on board PediatriCare Grief Support Center, known today as Circle of Care, and added the Hawthorne Community Collaborative, today's Hawthorne Family Resource Center. We built a successful model Healthy Start after school program at Sequoia Elementary in Oakland, and employ those best practices today.

In 2001, we also welcomed into the EBAC family the very successful and well-respected Child Assault Prevention (CAP) Training Center which together with the 2008 merger with Child Abuse Prevention Agency (CAPA) provided EBAC with solid prevention-based educational services that ensured each child has the skills they need to succeed in school and in life. In the mid-2000's we created our unique Youth Empowerment Services (YES) to fill a very vital need - assisting teens transitioning out of the Juvenile Justice Center and helping teens avoid entering the juvenile justice system. YES thrives today working with youth before they enter the system. In 2015, EBAC launched Trauma Transformed in partnership with the bay area counties' Children's Behavioral Health Directors. Trauma Transformed's system transformation efforts work locally and nationally to change the way our public health systems understand, respond to, and heal from trauma and oppression. Trauma Transformed works with organizations and government systems to provide training and leadership coaching, offer policy and practice change consultation, and lead convenings of system and community leaders to organizations and the people who work for them offer services that are healing and do not perpetuate harm and trauma.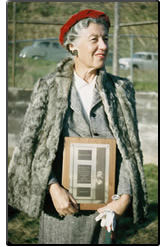 Today, EBAC's transformational programs annually help children, youth, and families recover from trauma; build upon existing resilience to protect against long-term harm from past or future exposure to adversity; and when possible, prevent exposure to adverse childhood experiences. Guided by a trauma-informed approach, EBAC invests $17 million into its eight distinct, direct service programs include two counseling programs; five Family Resource Centers; a health and wellness center, and grief support, preschool intervention, afterschool, and youth empowerment programs. In fiscal year 2020-2021, EBAC provided direct service to more than 3,000 program participants plus support services, outreach, training, and technical assistance for thousands more children, youth, families, community members and organizations."


Read a fascinating account of East Bay Agency for Children's early history in a written account prepared in 1980 (PDF).